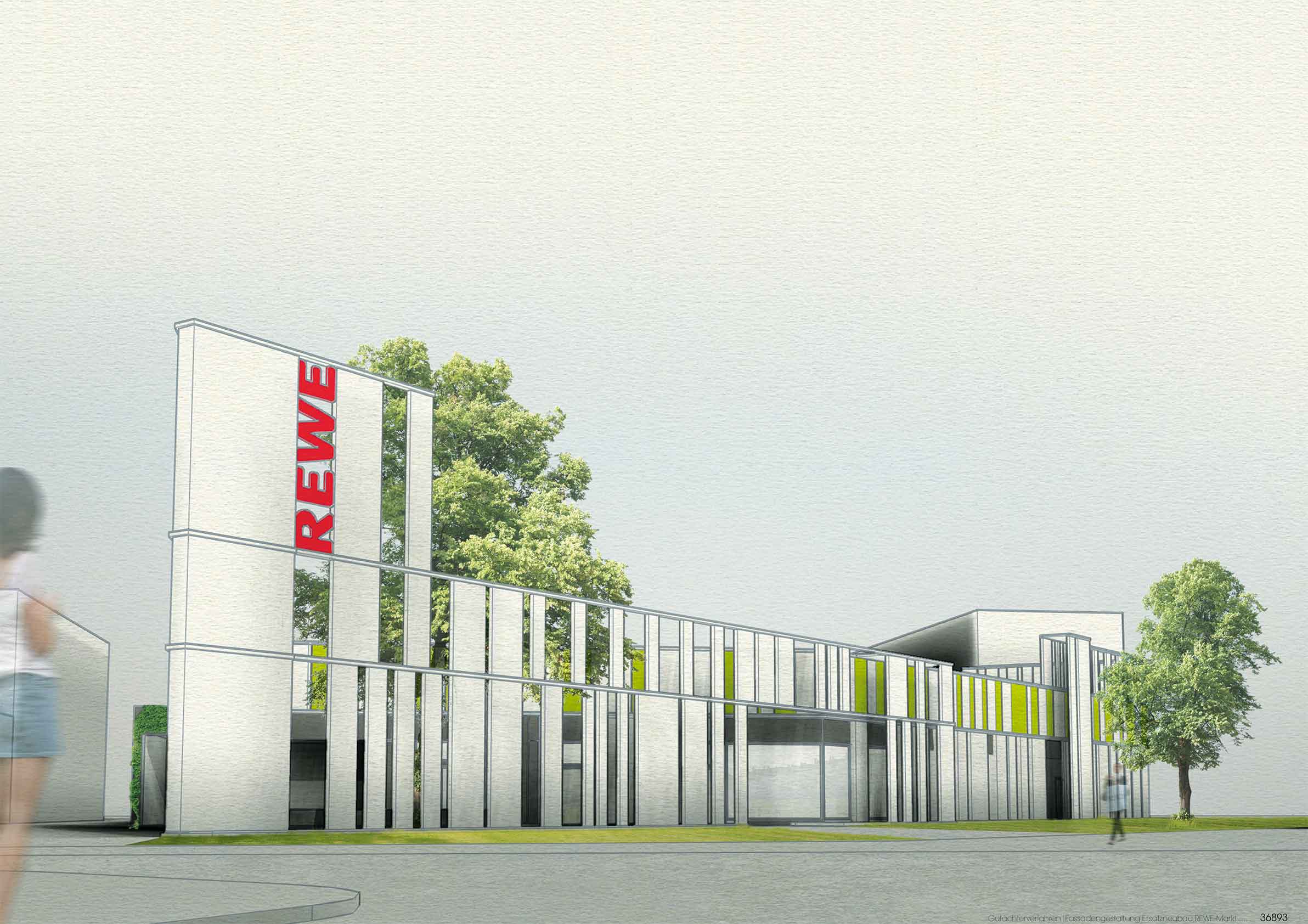 facade competition REWE Markt Löbauer Strasse
The planned new building is both formally from an urban planning consideration as a solitary between new blocks, sports hall and a period perimeter block structure. Here is our view, the deficit of spatial integration in the surrounding development of the market. In addition, the expanded road and square in front of the market for them - apart from some proposed tree planting - the framing and a structural contour.
The draft thus derives fundamentally from the consideration of urban spatial context.
It comes to us in the draft version of a priority to fix an urban planning from our perspective deficit in the crossing area Gorkistrasse / Löbauer street and to "fix" the lack of space edge structurally. The mere optimization of the facade elevations of the new building seemed inadequate in this case. We have attempted for this reason, to achieve an optimization of the facade image with relatively simple means and leave the thus produced, released Delta flow of construction costs in the cost of the extension along the Gorkistreet.
The intended effect of the design is to define a space boundary, which summarizes the crossing area and accompanied the contour of the road space. A structural continuation of the road accompanying facade along Gorki Street to the intersection area Löbauer street is this a logical and necessary consequence.
The facade of the building receives a thermal insulation system that in the field of pilasters doubled. The exposure generated by those buttresses shifted facade rhythm is continued by the construction of a partially with sandwich panels fanned out or planked steel construction to the intersection area. Before the two necessary outputs with upstream stairs minor extensions are provided whereby the facades experiences a stronger structuring. The Schlippe between sports hall and REWE market will also receive a facade greening.
construction
Main facade buildings: EIFS, doubled, cleaned and painted in the pilasters
Extension structure: steel frame construction, sandwich panels (double skin composite elements with metallic cover sheets)